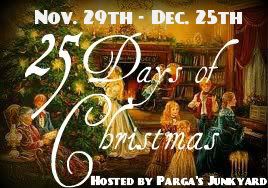 Don't forget to check back every day through Christmas for a brand new post and giveaway!
Today's post is from 3Ps in a Pod, and here is a sample of what is to come:
December 23rd
Aren't you excited?! It is almost Christmas!! Well, today's featured post and giveaway is being held at 3Ps in a Pod. The featured giveaway is a fun, retro game system featuring 12 Pac Man and Pac Man related games! We also have a special featured post is about some easy and clever ways to wrap beautiful Christmas gifts ~ And who doesn't love the look of all the gifts neatly wrapped under the tree?
Well, Alyson has put together a terrific set of ideas using items you probably already have, right in your own home. The beautiful package pictured above is just one of the simple yet appealing ideas offered!
To check out the whole post and enter today's fun-filled giveaway,
go here
!