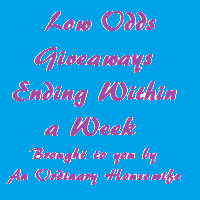 This is a giveaway form that takes into consideration the number of entries allowed per person as well as actual entries. Many "low entry" lists require you to have less than 200 entries. But if each person is allowed, say, 20 entries, that's only 10 people that can enter before you're over the limit. Not too helpful, in my opinion. So I decided to do a list based on odds, rather than actual entries. Here are the guidelines:
*Giveaways must be ending within a week
*There must be no more than

25

unique entrants when the giveaway is added. If there are multiple winners, you may increase this number by

5

per each additional winner
*There must be no more than 15 WAYS to enter. This means individual actions the entrant can take. For example, if an entrant gets 3 entries for "liking" a page, that is 1 action. If they get 5 points for tweeting, still 1 action.
*No entry methods

ask

ing for a purchase or registra

tion

.The only exception is newsletters/email.
*If your giveaway has more than a week to go, you can still fill out the form and I will add it when

there is less than a week to go, providing the giveaway still falls in the guidelines!
*Not a requirement, but I would be really grateful if you could help me spread the word by grabbing the button above and sharing on y

our site!
If your giveaway meets all these requirements, please feel free to su

bmit the form below, and I will get it added as soon as possible. :-)